Anouk Kramer is best known for her rustic pottery with its subtle golden lining but also for her richly decorated tulip vases, unmistakably Dutch. Anouk has been making pottery since 1995.
Working in her studio, a converted barn behind the old farmhouse in Spijkerboor, Noord-Holland, potter Anouk Kramer lives with her family: her husband, three daughters, and assorted dogs, cats, and farm animals. Her studio is little more than an old shed, light pouring in through floor-to-ceiling windows on one side of the single room onto rough shelves lining the opposite wall. The entire wall is filled with pottery in various stages of completion, some of it still unglazed and raw, some drying, other pieces glazed, fired, and finished. There is tableware, rustic tea cups, bowls, and gold-rimmed plates, as well as sculptures of the natural world outside the studio, tulips, sea shells, and small animals. There is no such thing as climate control in here, which allows nature an indirect hand in the creation of this work. Dry weather makes a different plate than rain, heat different from cold. Infinite in their variety, they are all black clay, white glaze, and perfect in their handmade imperfection, each piece uniquely beautiful.
'I find it wonderful that by working in my shed with a lump of clay I can create art that brings people happiness.'
Anouk finds inspiration in these pastoral surroundings as much as in the work of the masters, displayed in the museums of nearby Amsterdam. Open fields surround her home, cattle and sheep grazing in the pastures. Closer to home, she cultivates a vegetable garden as her chickens wander nearby, forever hunting for savory treats in the grass. These influences find their way into her work as images of hares, eggs, insects, sea life, and words of love. Clients inspire her with their ideas, blending with her own to create something new.
'There's a lot of love in my work, in every cup and plate'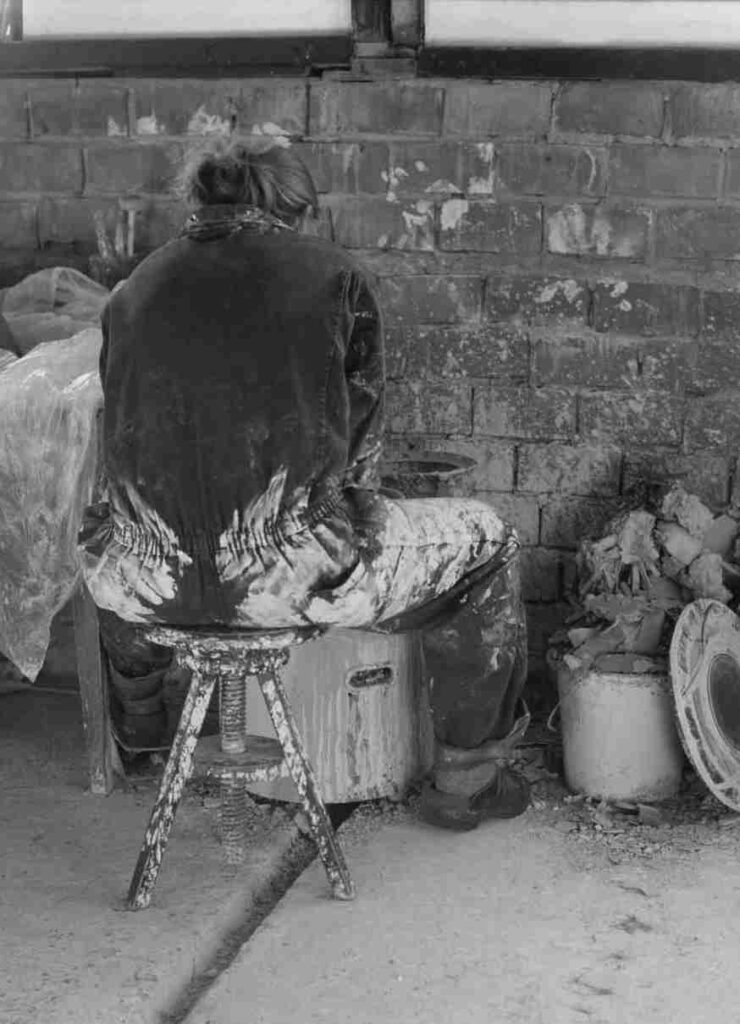 Over the last few years Anouk has expanded her focus from tableware into sculpture, including elaborate art pieces created in collaboration with jewelry designer Bibi van der Velden.  Their series is entitled, "Necklace On A Grand Scale," and incorporates both mediums, pottery pieces strung into glorious necklaces fit for the Queen of Giants. These enormous loops represent the cycle of life, an infinite loop of growth, change, and rebirth.
Because Anouk believes that beauty should be accessible to everyone, she also offers a commercial line of ceramic art: Anouk for &K
THANKS TO
Photography
Paul Bellaart
Liselore Chevalier
Styling
Valerie van der Werff
Video
Samuel Rozelaar